Department Contacts

Sasha Palmer
Food Service Director
Tel: 617 730 2499
Email: [email protected]
Tess Washburn
Assistant Food Service Director
Tel: 617 730 2436
Email: [email protected]
Megan Mele
Food Service Admin. (Part-Time)
Tel: 617 730 2415
Email [email protected]


Welcome to

Brookline Food Services
---
Feeding Brookline event was a SUCCESS!
Wednesday, July 7
4:00 — 6:00 pm
Pierce Playground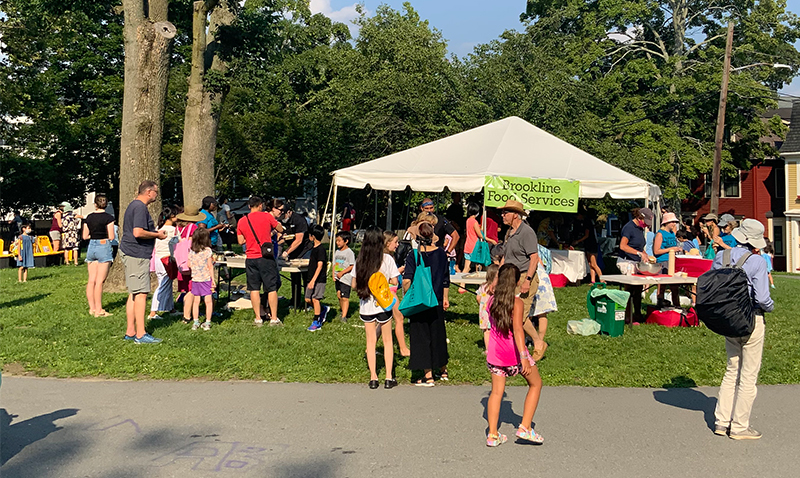 ---
Summer Schedule
July 6 — August 20
Pick up is Monday — Friday with Friday receiving 3 days worth of meals
| | | |
| --- | --- | --- |
| Meal Site | Location | Pick-up Times |
| Baker School Playground | 205 Beverly Road | 12:00 - 1:00 pm |
| Pierce Playground | School Street | 12:00 - 1:00 pm |
| BHA High Street Veterans | 30 New Terrace Road | 11:30 - 11:50 am |
| BHA 22 High Street | 22 High Street | 12:00 - 12:20 pm |
| BHA Egmont | 55R Egmont Street | 12:35 - 1:00 pm |
Translations: Download pdf
---
Refunds
The District has changed to a new payment system, K-12 Payment Center. Although the USDA has extended free breakfast and lunch to all students through June 2022, parents need to set up an account in order to receive a refund.

1 Setting up an account
Setting up an account has no cost to you, and is fast and easy to do. Go to K-12 Payment Center and use the "sign up" link to get started.
2 Requesting a refund
If you have funds in the account carried over from 2019-20, after you have set up an account, use the link below to submit a refund request.
---
REMINDER:
Free school meals available to all students
As you may be aware, breakfasts and lunches are free for all Brookline Public School students, aged 0-21, through June 30, 2022.
But you may not know is that from July 1, 2020 through June 1, 2021, the Food Service department has served 218,700 breakfasts and 359,833 lunches. This brought in a significant amount of federal dollars in the district money. Not only does this service save families time and money, but when your children eat school meals, it provides federal funds to the district.
Funding for Initiatives
This additional funding is being used to help the department attain its sustainability goals, including the following initiatives:
Transition from using disposable supplies to purchasing reusable trays and utensils
Assist with purchasing some dishwashing machines in schools, to be able to sanitize reusable trays, utensils and dinnerware
Invest in farm-to-school initiatives to help the department grow its own food as well as provide nutrition education to students
Invest in purchasing locally-grown organic foods for the program, while helping to reduce the department's carbon footprint
Help to offset

over $338,000

current outstanding balances of student food service accounts, helping to ensure ALL students have access to quality food, regardless of ability to pay
Build a sustainable business model, ensuring that the program is self-sustaining financially
How you can participate
You still have time to help maximize the amount of federal dollars the program receives! It's as easy as 1-2-3:
Have your kids participate by eating a school breakfast and lunch the days they are in school. Create an account at LINQ and start pre-ordering your kid's meals today.
Sign up and participate in the Weekend Take Home Meals Program; breakfasts and lunches are given to students on Fridays at dismissal (see below).
Participate in the Remote Meal Pick Up Program: If your kids are in RLA, visit one of remote pick up locations on Wednesdays or Fridays and pick up a week's worth of meals. (See below for more information.)
Already participating? Please continue to do so. We hope this initiative is helping you to save time and money, while offering your children nutritious meals.
---
P-EBT Funds Available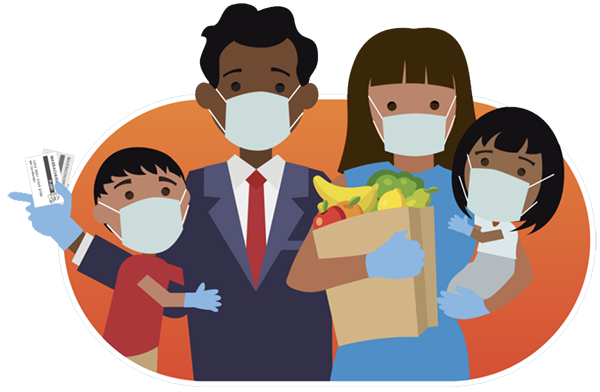 Brookline students who are eligible for free or reduced-priced meals in our school will get Pandemic EBT (P-EBT) funds through the 2020-2021 school year. P-EBT funds can be used to help you buy healthy food for your student and family. It's important to stay healthy, especially during the COVID-19 pandemic.
Learn more
Language translations are also available to download.
---
Free and Reduced Price Meal Program
While school meals are free for all students for the 2020-2021 school year, please note there are other benefits and assistance for those who typically would qualify for free and reduced price meals. In order to see if you qualify for these benefits, you will need to apply.
To apply:
Go to LunchApplication.com.and click "Apply Now". You will be required to provide your student's Student Identification Number, which can be found in the Parent Portal.
We will provide paper applications if needed, however applying online is highly encouraged.
If you are having technical issues with the application use the help link on LunchApplication.com. Please feel free to contact the Food Service if you need additional assistance: 617-730-2499.